iPhone Monitoring App: A Solution to tackle Risky Teen behavior
A few months ago, both of my children came to me to ask whether they can go to the park to play football. I told them that they could. But later, I came to know, they actually used to set out in search of some forest to see wild life. It seemed like I skipped my heartbeat at that moment but thank God, they couldn't find one. But then I thought what if they will make it some other day too, what can I do then? So I decided to monitor them regularly through StealthGenie's iPhone monitoring app.
iPhone Monitoring app — The Perfect Package for Parents
Through monitoring app, parents can monitor all the online as well as offline activities of their children. It will help ensure the safety of children remotely. They can monitor:
Emails
Deleted data like emails, messages and pictures
Call recording
Call interception
SMS logs
Web history
Trigger alerts/Notifications
Multimedia files (Audio and Video)
IMs (Skype, Viber, WhatsApp, Facebook Messenger, BBM )
Observe Your Children in the stealth Mode
It will be like observing your kids in and out. StealthGenie monitoring application works in the background of cell phone. Children will never know how they are being monitored unless you yourself tell them. You just need to install the app in their smartphones once and they will never be able to deactivate or delete it.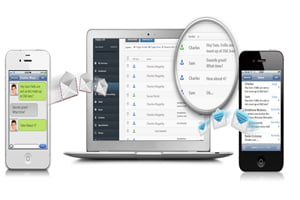 Astonishing Location Functions
This monitoring application will not only facilitate the parents with the exact location of their children through Geo-location but it will also give them the exact route (Geo-tracking) and updating whether their children are in safe zones or not (Geo-Fencing). Trigger alerts can be used to make parents alerts of dangerous and safe zones of children. Moreover, the feature of live surrounding can be used for listening to the surroundings of the children.
Compatibility Options and Packages
This iPhone monitoring app is compatible with:
iOS: 4.x, 5.x, 6.0 to 6.1.3
Parents have following three options to choose from when it comes to buying StealthGenie:
Basic ($8/Month)
Gold ($13/Month)
Platinum ($16/Month)
I decided to use StealthGenie's iPhone monitoring app as it offers good customer support and additional amazing features of Geo-Tracking and Geo-Fencing. I will highly suggest it to all the parents, who always remain concerned about the online and offline activities of their children.