Housing.com -Real Estate Portal Growing into Popularity
Real Estate portals have never been successful to win over people's faith and confidence because of not delivering what been promised in terms of services and other facilities. But, the perception has changed once Housing.com has been launched, and their performance outlived the expectations of people. Property Search has never been so easy, convenient and reliable.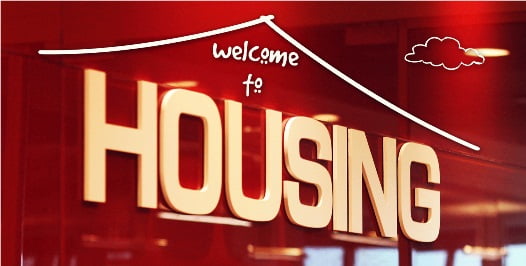 Very recently, I came across an amazing home search portal through which anyone can ditch the conventional process of online property search. Housing.com has the state-of-art designed web-portal providing a comprehensive property search option. The home page gives you the collage of cities with appealing visuals followed by the options of your preferred locations and the type of property you are looking for e.g. rent/buy/PG/Hostels etc. Instead of just featuring the basic details with a contact number, Housing.com rather displays the property location on the map with a details of the same, which not only includes the location about also the accurate specifications along with photographs, neighbourhood briefs, modes of communication, deposit money, rent details and ratings indicating the stratum of the property. All these features minimizes the hassle of hopping round the city throughout the day for house hunting thus shooting up the people's preference towards Housing.com.
How is it different from existing home search portal
Relocating to new cities to pursue career goals was never a new story, but with Housing.com exploring the real estate markets and pick and choose your new home in a new city…Yeah…it is… it's more of an experience of having an real time property checking, by ditching the traffic of the city and the travel time. For example, if you are planning to take up a new course of study or an exciting job offer from your dream company in Pune, which is not your home town, nor resided by any relatives to guide you. Well, previously, it used to be a situation of concern for you as well as your family. But now, with Housing.com, check out the features and benefits of all the residential properties in one click by, shortlisting the properties as per your requirements and you do it before even you have stepped in the city. All you need to do is to visit the Housing.com website select your preferable location and type in Apartments on rent in Pune and instantly you land on the result page, spotting the locations on the Map along with the details of the properties. All these properties which are been appears in the search list are verified and provided with a ratings for your understanding. You also get the option to refine and customize your search as per the amenities and facilities you want in your new house in new city. Housing.com actually takes you on a real-time virtual tour of the city when you are miles away which in a way makes your family breathe a sigh of relief.
The Omnipresence factor:
Apart from having an online presence, Housing.com app is also available which is also packed with same features, thus making the search more convenient. The Housing.com app is supported by the smart phones, android and windows phones prevailing in the market. The convenience of technology has almost touched all the souls but, still there are handful of people who are not tech friendly. To ensure seamless service to those people, Housing.com is reachable at 03-333-333-333.
Impeccable mélange of technology with Business Intelligence:
Housing.com is not the first online property search portal, but the concept of bespoke real time property search has been conceived and implemented impeccably by them. Apart from just a providing information about different properties and locations, it also provides the visitor with the socio-economic and demographic overview about the cities too, which is a very unique and politic feature of the website and makes Housing.com stand out of the clutter of so many available online property search portal. Housing.com understands that every visitor has different requirements which need to be handled in a distinctive way and they have actually outlived the expectations. Housing.com has celebrated their second work anniversary in June. They might be a newbie in the market, but they conceptualize the vision of markets with accentuated proficiency. This made them to have a successful expansions across 26 cities with 130847 verified listings, 638538 happy home seekers and the number ticking more with tick of time.
Nothing speaks louder than actions and in business it's the numeric value that counts. Be it the number of happy and loyal customers or the expansion statistics, Housing.com is focused and determined to provide the people with best online property search experience with all its innovative ideas and definitely curve a niche in the real estate industry by ensuring "Walk the Talk" proposition.