Our Top Finds: Quality Ecig Starter Kits On Sale Right Now
Many people are now embracing the benefits of switching cigarettes for e cig starter kits. Long term smokers have reported huge improvements in terms of their health. There are many different types of e cigs on the market. If you are looking for a quality e cig starter kit then the experts from Grey Haze are here to help you get the best deal at the lowest price possible.
The benefits of buying an e cig starter kit over smoking cigarettes
Breathing returns to normal
Reduced chance of smoking-related cancers
No lingering cigarette smell
Whiter teeth and healthier gums
Tastes better
You can slowly cut down on nicotine intake
Improved skin and less long term ageing
Improved senses including smell and taste
Improved circulation which leads to more energy for everyday tasks
More info about the effects of tobacco smoking can be found on the NHS website.
When will an e cig start kit come in useful?
There are many situations where the addiction of nicotine will rear its ugly head. Many smokers have associations with cigarettes that can be extremely difficult to break. A cup of coffee in the morning, on your walk to work, on your lunch break and at the pub with friends: these are some of the most common situations where smokers attempting to quit will fail. A quality e cig starter kit will give you something to keep your hands busy, curb your nicotine craving and give you that "smoke in mouth" feeling.
The highest quality e cig starter kits
At Grey Haze we strive to get you the BEST hardware to enable you to quit smoking instantly and make the simple switch to vaping. Buying low quality e cigs is one of the reasons why some users fail at vaping. That is why we are now offering the ultimate quality e cig starter kit!Meet the itaste vv3.0.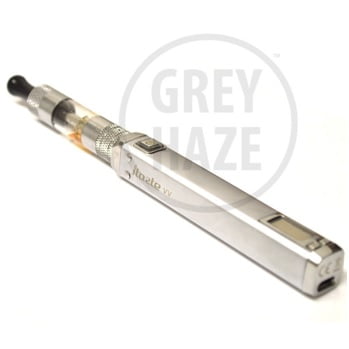 The swish lookingInnokinitaste vv3.0 is simply the best battery money can buy. We have coupled it with the newest and best tank available on the market, the Aspire BDC Maxi, together this kit is simply unbeatable.
Let's begin with the itaste vv3. It has 6 rivets for extra strength, it can also be used as a pass through and uses a micro USB charging port so you will never be caught out. It also has an ohms meter, variable voltage/wattage, puff counter and a battery life indicator.
We supply the Aspire BDC Maxi tank to complete this starter kit. This BDC is in our opinion one of the best tanks available on the market. It is well built, can be disassembled and the BDC coil is simply the best on market today. The Maxi coils are only £2 each, and can be easily replaced meaning the tank is completely reusable.
The best thing is that this kit is on sale now at Grey Haze for just £28.99, just add your favourite flavour of e juice and away you go!