How to Backup and Restore Android with MobileGo for Android
When it comes to your important data, the foremost thing you do is take its backup. Now-a-days, smartphones and tablets have become an inseparable part of everyone's life. Be it your daily meetings or birthdays of your loved ones, your smart gadgets help you in keeping a track of all.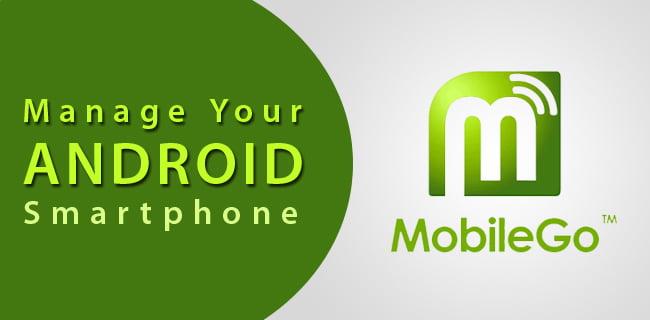 Your mobile phones hold every minute detail of your day to day life including important contacts, messages, calendar, photos, playlists, etc. Then, how smart it would be to not take a backup of this data? Imagine losing you phone or crashing of your system! What is the guarantee of retrieving your data?
This is when the data backup process comes into the picture. Copying your data on one or several other devices is known as data backup. This backup then helps you in restoring your lost data under several circumstances. Let's now understand why there is a serious need to back up your data and how to do the same.
Why there is need to back up and restore Android?
As mentioned above there are various serious reasons one needs to take a backup of his/her Android phone. Following is a list of occurrences that can cause a data loss.
Accidentally deleting your data. Many a times it happens that you unintentionally end up deleting useful data or your kids while playing with your handsets unknowingly delete some or the other thing from your phone.
Misplacing your handset. Your phone, though an inseparable part of your life can get stole or misplaced during your hectic working days. And with this misplaced phone you also lose all of your important data.
System crash or fatal accidents. However smart your phone be, it's an electrical gadget and can crash or get destroyed at any point.
What is Wondershare MobileGo and What It Can Do?
After reading the above points you will definitely think of backing up your data. But, how can it be done? This is when the Wondershare MobileGo for Android comes into the picture. This amazing application software makes it easy to manage your smartphone taking regular backups and keep it ready to restore at any point of time.
MobileGo is amazing software that helps you manage your Android devices through your personal computer (PC). All you need to do is download this software from their website (they do have free trial for 15 days), install it and sync it with your Android device for data backup and restore.
Let's look a bit in detail about this software and its working.
How to use MobileGo to Backup and Restore Android?
Installation and Using MobileGo
MobileGo is available for Windows as well as Mac users. You can find your required version of software on the official website of Wondershare. Download and install it on your PC. After completing the installation process, you can connect your Android device with PC using Wi-Fi connection or through USB cable.
If you are using a Wi-Fi connection, you need to scan the QR code present on the MobileGo's home screen. Instead, if you are using a USB data cable, you need to enable USB debugging on your Android phone. After installing the necessary drivers, you get to see your synced phone on the home screen with all the other backup options ready to be explored.
One Click Backup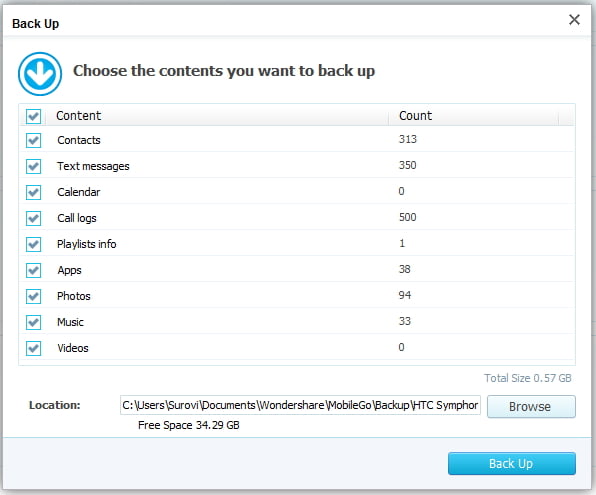 This option will grab your attention instantly as soon as you see your synced dashboard. Selecting this option will give you an entire database of your Android device. You can check and uncheck the things that seem important to you and hit backup.
Restore
This option helps you restore all the data that you have taken back up of previously. Selecting this option will ask you to choose on the data you want to restore back to your Android device. Simply enabling the required data and hitting restore will get you back all your data.
Contact Management
This exclusive feature from MobileGo helps you in managing your contacts like never before. With MobileGo you can't just take the backup of your contact but organize them wisely. This software helps you in finding duplicate contacts from your contact list, help you merge them, import/export contacts to Outlook and much more.
Apps and Media Management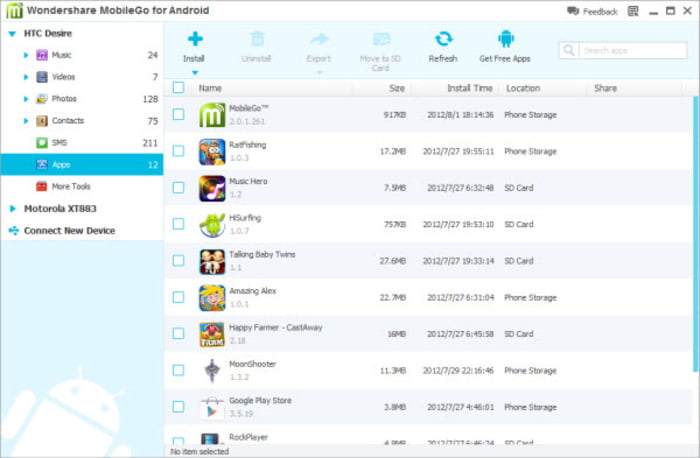 Apart from contact and messages, MobileGo also helps you in taking a backup of your Applications, music, videos and photos. It also helps you with several other features like app installation and uninstallation, sharing applications, using Google Play Store, etc.
Moreover, you can also manage your media file through amazing features like converting & importing music, importing/exporting itunes playlists, converting & importing videos, integrating with YouTube, and much more.
Verdict
All in all, MobileGo is amazing software that has been developed for some serious backup and restore management. However, it functions more than a mere backup generator and helps the users with some amazing features like contact management, media management as well as application management. Hence, Wondeshare MobileGo rests to be one of the most worthy data backup and restore software in its genre.