How to Resize Partition Windows 2003 without Data Loss
If your disk partition is reached at its limit, you want to delete extra unwanted stuff. If you don't want to delete or move stuffs or data stored inside that particular drive, you have one option to resize that partition. Resizing is nothing but changing storing size of certain partition. When you install any operating system, you have to format hard disk and resize it according to your needs. By using traditional methods, you've to resize disk partition by formatting your windows operating system. But there are other methods to resize partition in your windows server 2003. Here comes AOMEI Partition Assistant Server Edition, this software can easily help you to resize partition server 2003.
Using AOMEI Partition Assistant Server Edition, you can easily resize your partition size in windows server 2003 operating system. You don't have to take a backup of your data and format PC to resize server 2003 partition. This software will do this for you without formatting your PC. You can extend partition or shrink it, you can merge two partitions with the use of this software. This software does the hot resize of partition in server 2003 OS without any data loss.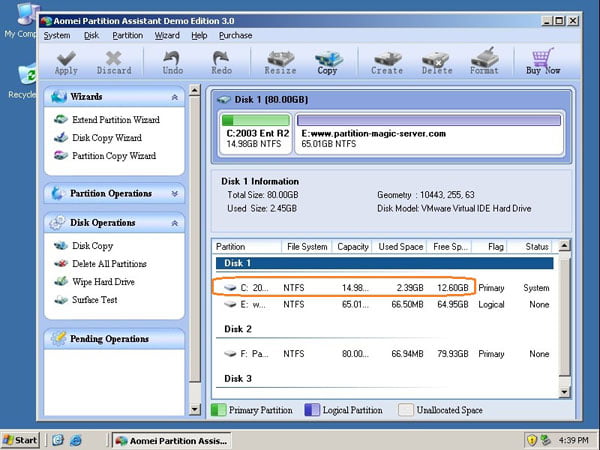 Here is the tutorial to resize your partition in windows server 2003 operating system using AOMEI partition assistant software. In this tutorial, we are going to resize C: drive using this software.
You have to launch AOMEI partition assistant. After opening, you'll get details about number of drives and their current size.
In our case, there are two drives, i.e., C: and D; on drive 1. Now click on partition D: and right click on it. Now choose "Resize partition" option from drop down menu.
Now the pop-up window will appear. In that window, put mouse pointer on left slider bar until pointer turns in Double headed arrow, and pull it to right side.
After Doing above procedure, you should click on "OK". After clicking on "OK", you'll see unallocated disk space on the right side of C: drive. After seeing it, right click on C: drive and again select Resize partition in drop down menu you see.
After clicking resizes partition, you'll able to change the size of partition by moving the slider bar or you can manually add numbers.
Now click "OK" and you'll come back to main menu. There you'll see two records addend in pending operations area. After then, click on "APPLY" button on the upper left side of widow and you're done with resizing partition in server 2003.
This server 2003 disk partition program by AOMEI is much easy to use. This software will let you to resize any disk in minutes without formatting your computer.
Check Products: http://www.disk-partition.com/partition-manager-server-edition.html