Best Airlines for Inflight Connectivity
You might think communication gets pretty difficult when you're 36,000ft up in the air. But these days you can send messages, surf the web and, on some flights, even make phone calls to anyone on the ground when you are on an international flight. Inflight connectivity is a fairly recent adaption to inflight entertainment. Many airlines are still only just implementing it, while others are constantly improving and growing. Though the technology is currently limited to only a few planes, specifically the Airbus A380, Boeing 747 and 777, it is improving and becoming more and more available.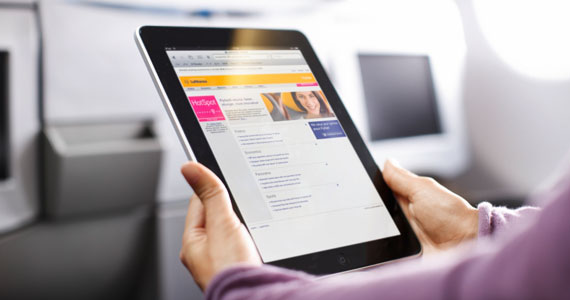 Most connectivity is limited to Wi-Fi, but certain flights allow mobile connections, such as text messaging. Many airlines do not allow phone calls in consideration of passenger comfort, but some do through in-seat phones and consoles. Some of these phones can even connect to other passengers on the same flight. If you need a specific communication tool during your flight (perhaps because you're on business travel), a travel agent such as FCm Travel Solutions should be able to advise which airline and flight will meet your needs.
The actual connections are created by ground infrastructure sending signals to satellites which then connect to the airplane. This works the same for both Wi-Fi and mobile network connectivity. The system is currently restricted to larger planes due to size and power requirements.
Singapore Airlines
Currently ranked the third best airline in the world, Singapore Airlines has a long history of fantastic service. Their inflight entertainment has been boosted to now include Wi-Fi connection and text messaging for all classes. Wi-Fi connection currently comes at an extra cost, while text messaging is determined by your service provider's existing roaming charges.
Emirates
Emirates has been a leading airline for many years and their inflight connectivity proves they are still at the top of their game. One of the few airlines that allows full use of mobile phones, including calls, Emirates has everything you could need on your business flight. Each seat has a built-in phone for making calls to anyone on the ground and any other passenger of the flight. The built-in monitors also have SMS and email services. You can keep up to date on current news with constant BBC text headlines, check your position on the moving map channel or take a bird's eye look of the ground below with one of the planes external cameras.
Qantas
Leading Australia's inflight connectivity race, Qantas is a little different to the other airlines. Rather than stick to the usual Wi-Fi but no calls, Qantas has done the opposite and provides calls and messages through an in-seat system but no Wi-Fi or mobile phone connectivity. They do, however, supply PC power outlets to charge laptops during the journey.
Japan Airlines
Sticking to strict Japanese transport etiquette, Japan Airlines does not allow any kind of voice messaging on board. While you can't call anyone, for a small fee you will have full Wi-Fi access for use with any compatible device within any class. Currently, only a small number of routes have the service equipped, but this is expected to expand.
Turkish Airlines
The first airline to implement live TV, Turkish Airways has becoming a leading airline for customer experience. Many different news channels are available, including BBC World News and Euronews. Full Wi-Fi access as well as text is provided free of charge for all passengers, though calls or voice messages are not.
Inflight connectivity is becoming a standard around the world and these are just some of the best providers. What other airlines deliver excellent inflight connectivity?