Alcatel OneTouch Idol 2 and Idol 2 Mini Reviews
From Alcatel two smartphones have arrived that are available at mobile carriers for pretty affordable price. When you are buying your smartphone via carrier contract, be sure that all your debts with that carrier are settled. If you cannot settle the debt by yourself, you should consider hiring a debt conosolidation service to help you, prior to entering a new contract for new smartphone, but with new debt. Check out the top ten reviews page where you can choose the best debt conoslidation service to aid you in settlement of your debts.
We have tested Idol 2 and Idol 2 Mini models which aren't too powerful in terms of hardware, but they will anyway satisfy the users with smaller pockets. They feature 5 inch and 4.5 inch qHD screens, Idol 2 packs MediaTek while Idol 2 Mini packs Qualcomm chipset and they both feature 8 MP back cameras and Dual SIM support.
Alcatel OneTouch Idol 2 and Idol 2 Mini
Two new Idols of former French and nowadays Chinese manufacturer have reached our test. If you have followed the reviews around the net lately you have noticed the reviews for four Alcatel smartphones. Two from Pop series (C7 and C) and two in Idol sub category (X+ and Alpha). Second generation of classic Idols brings improvements in a few areas, where some of them include the increase of the screen size, faster chipsets, bigger battery capacity and similar improvements. You cannot say that the improvements are drastic, but anyway they are a nice refreshment comparing to the last year's Idol and Idol mini models. Both models have Dual SIM support, which is really nice for people who like to put both business and personal number in the same phone.
Hardware
Alcatel Idol 2 and Idol 2 Mini are part of lower middle smartphone class, so these are more affordable phones with not so impressive specs. The bigger Idol uses MediaTek MT6582 chipset, while Mini is equipped with Qualcomm MSM8610 Snapdragon 200 model. In both cases quad core Cortex A7 processors are features. Idol 2 packs model with 1.3 GHz, while Mini packs model that works on 1.2 GHz. These chipsets use different graphic chips; MediaTek has Mali 400 MP2, while Snapdragon 200 features somewhat weaker Adreno 305. Idol 2 has bigger 16 GB internal storage, while mini has 8 GB. Both models have 1 GB of RAM and they are identical when it comes to the resolution of the main back camera – 8 MP. And since Idol 2 is physically bigger it has 300 mAh higher battery capacity. Idol 2 has 2000 mAh battery, while Idol 2 Mini has 1700 mAh.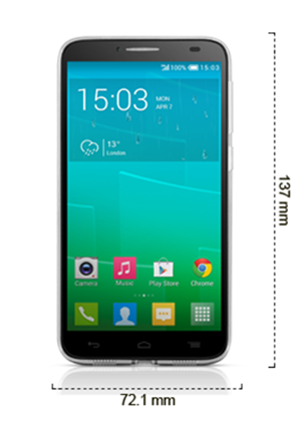 Design / software
Both Alcatel smartphones are coming in white boxes with regular content – charger, micro USB cable, in ear plugs. The design of these smart phones is a bit changed in comparison to its predecessors. For example, Idol 2 is bigger because of the new screen size, but it is also thinner. Idol 2 mini has grown a bit in size, but has remained of the same height. Idol 2 has got a look upgrade with aluminum plastic on the sides, and Mini actually features real aluminum on the higher are of the back side and sides. Idol 2 also has recognizable and familiar iPhone / Nexus 5 speaker style with speaker and microphone one the lower side of the phone, and on Mini, speaker remains on the back side. Both models don't have access to battery, and they don't have microSD slot.
Software
Launched at the end of February this year, Idol 2 and Idol 2 mini feature older Jelly Bean version of Android operating system, 4.2.2 to be precise in Idol 2 case, and somewhat updated 4.3 at Mini Model. Alcatel has swept the user interface with its lively skin that is dominated by square shaped icons. Especially interesting is the notification panel which uses gradient background from blue to green, and while navigating across the interface white elements are present a lot. Basic ROM features higher number of preinstalled apps, including SwiftKey keyboard, six Gameloft games including Asphalt 7, and usually unnecessary Antivirus. There are also CloudBackup, Adobe Reader and Office Suite and other tools. Our impression is that both models have too much preinstalled apps.
Alcatel offers affordable models for affordable prices. In terms of hardware they probably aren't interesting for enthusiasts as models from higher middle, or high class, but they will be interesting to people who doesn't have big budget for a smartphone. These are nicely designed and quality made smartphones that could be best described as "good enough".
They feature regular screens, good enough performance and solid cameras. They are a bit overcrowded with apps, and they feature older Android version. Battery autonomies are just enough to keep the phones running a full day. When you draw the line, Alcatel Idol 2 and Idol 2 Mini are fair choice for their price range.