How to Start a Cybersecurity Career With the U.S. Government
Last December, the International Internet System Security Certification Consortium (ISC)2 issued a set of recommendations to the Obama administration designed to increase the number of skilled cybersecurity professionals on the U.S. government's payroll. According to (ISC)2, 61 percent of government workers surveyed said that their agencies had too few information security professionals available to manage current security threats.
Whether you're a high school student, a college student or a seasoned network security professional, you can find a chance to boost your cyber security career by gaining employment with the U.S. government. Students who want to learn more about the current cybersecurity career outlook for the public and private sectors can click here for career information. With the U.S. government now offering scholarships, tuition stipends and competitive salaries to cybersecurity students and professionals, there's never been a better time to investigate a U.S. government cybersecurity career.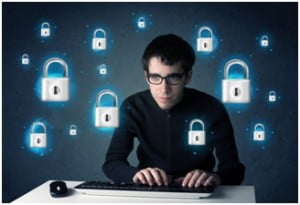 Are You a Good Candidate for a Future Government Cybersecurity Job?
Students who are U.S. citizens and are enrolled full-time inbachelor's, master's and doctoral degree programs can now receive scholarships from the CyberCorps: Scholarship for Service (SFS) Program. In return for a government scholarship, they must serve as full-time employees in a local, state or federal government information security position for a period equal to the amount of time they were covered by the scholarship or for one year, whichever is longest. Some jobs will require a security clearance, so students need to ensure that their activities do not disqualify them from obtaining the credential.
Students have to attend an eligible university selected by the National Security Agency (NSA) as a Center for Academic Excellence for Information Security Education (CAE/IAE). Then, they have to apply to the program at their university, and each university will select its own candidates. SFS provides different stipend amounts and end benefits for students at differing degree levels:
Undergraduate degree. Full-time students in both online and traditional bachelor's degree programs can receive a stipend of up to $20,000 per year during the last two years of their enrollment. They can also receive scholarships covering tuition, health insurance reimbursements, a book allowance and a professional development allowance. The shortest period for which a student can receive funding is one semester, and the stipend will be pro-rated for periods less than one year. After completing a 10-week internship, graduates with bachelor's degrees can enter service at up to a GS-7 classification.
Master's degree. Master's students can receive a stipend of up to $25,000 per year in addition to other scholarship funds in both online and traditional programs. Upon internship completion and graduation, they may enter service at the GS-9 level. Students completing combined bachelor's and master's degree programs can receive scholarships during the final three years of enrollment.
Doctoral degree. Students earning doctoral degrees can receive up to $30,000 per year in stipend funds. They may replace the 10-week internship requirement with a qualified research activity. Doctoral students can earn scholarships for the final three years of their academic work, and they may enter government employment at the GS-11 level.
What If You're Not in College?
High school students may enroll in cybersecurity courses at their local community colleges. Look for a community college labeled by the NSA and the Department of Homeland Security as a National Center of Academic Excellence in Information Assurance Two-Year Education (CAE2Y). They can also compete in Cyber Competitions, which are focused on identifying potential cybersecurity professionals from beginners to seasoned IT workers that wouldn't otherwise be identified within an academic environment. Joining the military is also a great way to gain cybersecurity experience.
The federal government may soon learn what many corporations have realized: the best cybersecurity professionals may not be on the Dean's List at a prestigious university. If you're currently in the IT workforce or if you moonlight as a hacker, then consider earning some IT certifications ranging from the basic CompTIA Security+ to the CISSP. You can also take Incident Handling classes and learn Security Assertion Markup Language (SAML). Additionally, look for opportunities to participate in government-sponsored hackathons, such as those offered by DARPA.