Its Time to Rock Your World with New Alfa 4C
The Alfa Romeo 4C is, without a doubt, the most important, eagerly awaited Alfa Romeo for decades. Any new Alfa Romeo is enough to get most car fans excited, whether it's a sports model or even one of Alfa's more recent hatchback cars, but the new 4C has gone further than most in piquing the interest of even the most part-time petrolhead.
The new Alfa 4C is a rear-wheel-drive sports car with an all-aluminium, direct-injection, 1742cc turbocharged four-cylinder engine, producing 240bhp at 6000rpm and 258lb of torque between 2100 and 4000rpm —enough to make any real car fan squeal with excitement. In fact, the 4C goes from 0 – 60 mph in less than 4.5 seconds, and hits a rather impressive top speed of 160 miles per hour, putting it right up there with the best of the affordable to mid-range sports cars available on the market.
This compact coupe, just four metres long, has a transverse mid-engine layout, standard six-speed dual-clutch automatic gearbox and a unique, refined shape with negative lift at speed and a low Cd of 0.35. Although to some people these facts and figures might not mean a whole lot, any car nut will see just how impressive they are. Take it from us —they are. Even the interior of the car is impressive, from its TFT screen to Alfa's signature DNA quadrant. It's not showy, though —this car has been kept deliberately simple and effective, and that's just another part of what makes it so impressive.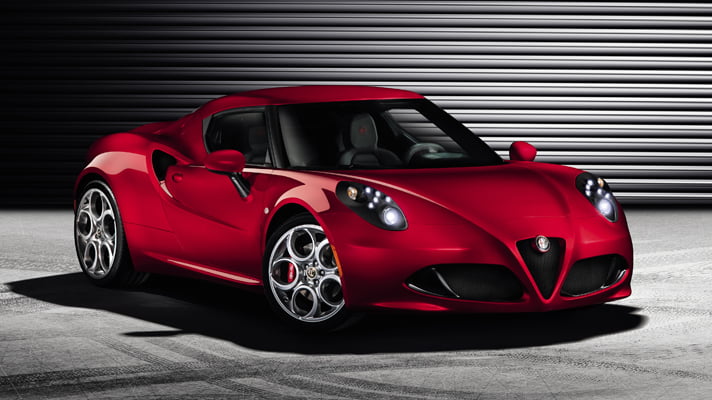 A key feature of this new 4C is its chassis; a rigid carbon fibre tub weighing just 65kg, which serves to make the car as light as possible in order to improve acceleration and handling. The final model weighs in at 925kg, which is considerably lighter than many cars in its class. This carbon chassis puts the car comparable with the likes of Ferrari and McLaren, however the 4C comes in considerably cheaper at under £50,000.
In fact, the 4C compares pretty favourably when up against some of the big names in its class. The Porsche Cayman, for example, has a slightly higher top speed and will set you back a little less than the Alfa, but it's far less fuel efficient and the Alfa tops the Porsche in terms of acceleration, too. Even the brake discs have been coated specially to improve the braking both in terms of its efficiency and the comfort for the driver.
Impressed? You should be. Any self-respecting petrolhead with a spare forty-five grand should definitely be making his or her way to the local Alfa dealer. You'll have to hurry, though. only about two hundred cars are earmarked for the UK market, so you'll have to get your name down early for each year's allocation. Indeed, only a thousand cars a year will even be heading to Europe as a whole, so we're pretty lucky in the UK to have a fifth of that allocation.