Top Five Cloud-based Online Storage Services
From its inception itself, Cloud Computing had become a hot-enough topic among geeks! As time progressed, Cloud Computing has acquired its practical form, and now involves in our everyday tech life directly or indirectly — most big brothers in the internet industry has moved to cloud computing from the traditional counterpart. Moreover, field of cloud computing is acquiring appropriate timely upgrades, and you can use authority blogs like Online Backup Mag if you would like to keep yourself up-to-date with those changes. One of the prominent services of Cloud Computing in perspective of a normal internet user are online storage services, which let users save, share and edit (optional) your files while being online. However, since there are multiple services for the mentioned purpose, you might face some doubts while choosing the online storage for you. If it is your case, you are lucky today! In this post, we like to list out top five online storage services, which can do prominent contributions in converting your office into virtual mode.
Google Drive
When compared to other services, the launch of Google Drive was a bit late, but the service had enough strength to turn to the choice of geeks. The service, however, offers a storage space of 15GB, despite the fact that this amount is the whole capability of Google account. Users have the ability to upgrade their storage space by paying corresponding amounts. As you can guess, G Drive is available for multiple platforms such as Windows, Mac, iOS and Android. In addition, Google Drive is integrated with other Google services such as Gmail in such a way that you can manage your email files using the storage service. In addition to these, users can edit Google Docs to create and edit documents as well. All these features make Google Drive one of the best online storage services you can get.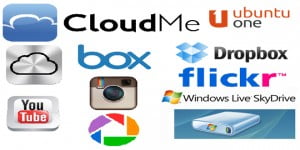 Microsoft SkyDrive
Microsoft SkyDrive is the foray of Microsoft into online storage service industry! Even though the primary reception was a bit sad, as Microsoft managed to integrate the service with Windows 8 devices, the popularity of SkyDrive has received a drastic growth as well as more users. SkyDrive offers storage space of 7GB of storage service that you can access through variety of platforms such as Android, iOS, Mac, and Windows Phone. Just as Google Drive, the service also offers editing of files through these applications as well as the web-based platform. Of course, SkyDrive is must-have service in the list.
Dropbox
This is yet another awesome platform for online file storage, which can be accessed through multiple platforms such as Windows, Mac, Android and iOS. When we compare the service to others, Dropbox seems quite minimal in design as well as with functionality, but it would be just right for your purpose. In addition, Dropbox supports sharing of files and a default storage space of 2GB. However, if you have friends who have yet not signed up for Dropbox, you could get extra storage through referrals. Apart from these, through some APIs, Dropbox has some productive applications that are quite useful in the web world.
Copy
Copy is yet another free online storage platform, which offers a storage space of 15GB. The service includes a superb synchronization tool for Windows-based services, and using the tool, keeping your documents in tough with online is a damn easy process. The service has come up with several options to share your files safely, and they include word 'protect' in their tagline. Since the company uses AES 256-bit encryption to store your files, the company can assure that your data is perfectly safe from vulnerabilities.
Box
Box lets you create an online 'Box' and keep all your important information in it! The service offers free storage of 10 GB, and you can use several applications to access the service. Unlike other services, Box offers different plans for a number of categories such as Personal, Business, and Enterprise IT etc. In the second and third plan variants, Box could provide the optimum abilities of Cloud Computing for business-based need such as FTP alternative, cloud platform et. In spite of the fact that Box does not allow editing of files, considering the 10GB, it is a great service.
As far as we have seen, most of these services have distinctive features, which in turn suit them for different needs. In addition, the mobile support is worth praising. Which is your favourite among these services? We are waiting for your comments.