5 great Android Apps for Notes and Tasks
From the day Android OS was released it came with number of applications to help users stay more organized. That is precisely one of the reason that these devices are loved all over the globe and percent of smart phones with Android user is rising day by day.
There are also more and more apps which are on ever increasing in Google play store. But with so many to choose from, how does one get started? So we have put together a list of some great Android apps for notes and tasks here they are.
Evernote: Is the first name which comes to the mind of Android user for notes and task and now is available beyond cloud based note service. Now user can not only upload their notes, tasks, and photos using evernote with quite an ease, but by using Evernote can also search for text inside notes, tagging, and sharing over social networks.
With the help of Evernote food which is standalone app, you can capture photos and notes of that food you enjoyed the last time you visited your favorite restaurant. While with the help of skitch apps in addition to mark photo and drawing you can also read and marks PDF files.
Google Keep
Is a way of organizing notes and lists is one of the latest addition to Google play store it ties directly to your Gmail or Drive account and with the power of the cloud, your notes, tasks, photos, and other items can be accessed from anywhere. By adding color you can differentiate between your work-related tasks and that growing honey-do list. But the best features is turning a simple note into a checklist by toggling check boxes, you can also choose from a number of home-screen widget options, create notes using your voice and store photos.
Wunderlist
Available for Android, iOS, Windows, and Mac, this free notes apps makes for a great way to create, manage, and share lists. This simple designed apps help you to remember your loved ones birthday and do many more things with quiet a ease, in other words it makes sharing and creating quiet a easy task.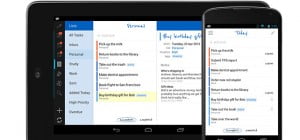 Any.do
Any do was earlier HOLO themed but later Google made it polished and gorgeous to use it also is quiet simple in design and layout. It has great features like it has ability to make calls, send messages, and schedule meetings you can also turn a missed call into a reminder or task it can also predict your task before you finish typing.
Todoist
Its eye-catching Android app which is quiet simple but colorful in design it's basically a cloud-based filing system for your to-do lists it break things down into folders and projects and assign them one of many great colors or labels. It also provides offline access, and due dates. Though free to use you can buy premium version for $3.99 per month or $28.99 per year, if you want features likes reminder service.
So these were the top 5 Android ass for task and notes there are few more which are also quiet nice and can do justice to the required task but according to me this were the top 5.