Nokia Lumia 920 vs Nokia Lumia 925 Features and Camera Comparison
Two best windows phones currently available in the market and with the reduction in the price of this handset it has becomes quiet affordable also so if you are planning to buy windows based smart phones with great features than Nokia 925 or Nokia Lumia 920 would be your obvious choice but as both are different devices and there are some differences between them so if you are confused to go for which model this article might help to remove your confusion.
Design, Display and build
Nokia 925 is the first lumia series Smart phones to dawn metallic body which is made of aluminum its about 8.5 mm thick and due to the presence of aluminum it's also quiet light at 139 grams so if you go by build and design Nokia 925 has definitely got a edge over Nokia 920 and is also lighter by about 46 grams compared to 920 and fits better in hand.
The display for both the handset is almost same the 4.5 inch amoled screen has got a 1280*720 pixel resolution display which is quiet good and give a great viewing experience while watching HD movies and playing games.
Hardware
There is a long gap between the two windows phone but still the hardware configuration of both the handset is almost identical both are powered by dual core 1.5 GHz Qualcomm Snapdragon S4 MSM8960 mobile processor with aderno 225 graphic chip the RAM is also identical at 1 GB but when it come to internal storage Nokia 920 has got a edge at 32 GB internal storage compared to Nokia 925 16 GB internal storage neither phone has a memory card slot hence there is no chance to increase the memory capacity of phone hence going by hardware configuration Nokia 920 has got a slight edge over Nokia 925 but only slight and that to because of internal storage otherwise there is nothing to choose much between the two handset.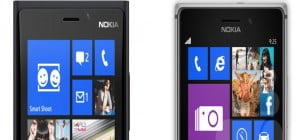 Camera
This is the main asset of both the window phone though both the phone has got identical MP of 8.7 and the same Carl Zesis lens but Nokia lumia 925 has got a sixth lens compared to lumia 920 5 lens which help the Nokia lumia 925 to clik a slightly better pictures than Nokia 920 which also is quiet good when it comes to taking pictures both the phone can record a full HD videos.
Nokia has also brought new Smart camera apps that allows user to take burst of photos and then allows user to fix the blur both the phones are equipped with identical 1.2 MP front camera
Battery and verdict
Both the window phone had a 2000mAh battery which gives a decent talk time and standby time but can be charged wirelessly
So if you want a lighter and smart looking Smart phone with better camera then by paying a little extra you can get a Nokia 925 but if look is not the criteria than Nokia 920 is also not a bad choice especially since it is a bit cheaper than Nokia 925.